9/27/2003 to 5/30/2008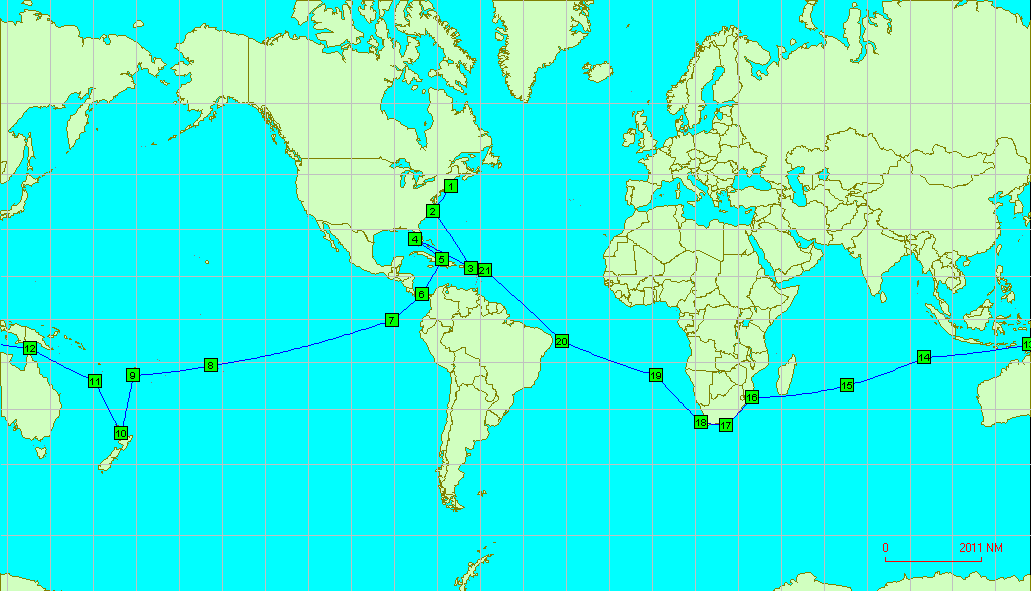 Our original plan for this circumnavigation is a west-about route via the Caribbean, Panama Canal, South Pacific to New Zealand; then on to Australia and across the southern Indian Ocean around the Cape of Good Hope, across the south Atlantic to Brazil and back to the Caribbean. But as all sailors know, even the best laid plans are never written in stone. So we will update this section as we go along whenever possible. (Note: The numbers on the map do not correspond to the chapters below).
Each area will be separated by "Chapters". Hope you enjoy the trip....
Chapter 1 - Caribbean - 2003/2004 season
Chapter 2 - The Panama Canal - May 2005
Chapter 3 - The Galapagos Islands - May 2005
Chapter 4 - French Polynesia: Marquesas Islands - June/July 2005
Tuamotu Archipelago - July 2005
Chapter 5 - The Cook Islands: Palmerston Island - September 2005
Chapter 6 - The Island of Niue - September 2005
Chapter 7 - The Kingdom of Tonga - October 2005
Chapter 8 - Fiji - November 2005
Chapter 9 - New Zealand - November 2005 to April 2007
Chapter 10 - New Caledonia - May 2007
Chapter 11 - Australia - June/July 2007
Chapter 12 - Cocos (Keeling) Islands - August 2007
Chapter 13 - Rodrigues Island - September 2007
Chapter 14 - Mauritius - September/October 2007
Chapter 15 - Reunion Island - October 2007
Chapter 16 - South Africa - November 2007 to January 2008
Chapter 17 - The Atlantic Ocean Passage - January 2008 to March 2008
Chapter 18 - The Circumnavigation is Complete - April 2008 to May 2008