Mission Accomplished - Our Circumnavigation is Complete
In Antigua, we found everything that we were looking for -- good friends, a safe anchorage and of course waterside bars and restaurants to relax in. We had many of our good friends from New England come down to help us celebrate as well as some new friends that we met in Antigua.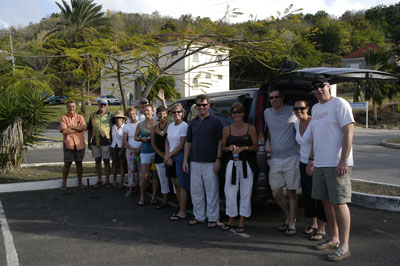 Some came by boat and others flew down. To say the least, we partied for the next three weeks. We had a great time and our thanks go out to everyone who took the time and effort to spend this esoteric momentous occasion with us -- thanks to Bud, Rasta Bob, Cathy, Paul, Beth, Emory, Susie, Richard, Joan, Ken, Cindy, Bill, Margo and Romeo who years ago we taught how to make the proper "painkiller". Thanks also to all of you who emailed us from all over the world....
After three weeks, it was time to raise anchor again and point Iron Mistress' bow southward. Our plan was to finish the Leeward and Windward Island chain and then sail offshore to the Virgin Islands and then make our way back to Florida. As we made our way down the island chains, we had to deal with the rough and boisterous weather that occurs in the passes between the islands. When you make these passages, the disturbed air and water patterns as they funnel between islands can be some of the nastiest sailing you can imagine. Nonetheless, we pushed southward so we could link up with the yacht "Fantasy" who was finishing her circumnavigation in Bequia. We stopped at Guadeloupe and The Saintes along with "Secret O'Life" and then we pushed on to St. Lucia and finally Bequia. We arrived in Bequia one-half hour before "Fantasy" came over the horizon and into Admiralty Bay. We blew our horn and rang our ships bell, and there began another circumnavigation party with the crew of "Fantasy" - Captain Jack and his brother Tom. We then hooked up with the South African catamaran "Indigo" with Mike, Lynn and Coenie and along with "Fantasy" continued south through the Windward Islands.
While in Charlestown Bay, Canouan, we met another catamaran "Yolo" with Jason and Karen on board. They made the mistake of inviting us all over for cocktails. We brought our blender along with our tried and true recipe for "Painkillers" and to say the least, we had a wild night. We then all pushed south, meeting up here and there along the way. Finally in Petit St. Vincent we parted company as the other yachts continued south to Trinidad and we sailed nonstop back to Antigua for one final party with "Secret O'Life".
We then started our homeward bound trip to Florida. We stopped in the British Virgin Islands to catch up with our friends Marco and Robin on the 52' Catana "Can Can". We cruised through the BVIs and then left Jost Van Dyke for a nonstop trip to Key West, FL over the top of Cuba through the Old Bahama Channel. However, after only 12 hours, our wind died to virtually nothing as a large high pressure system became stationary. Because we had 1180 nm to Key West, we made the decision to divert to Turtle Cove Marina in the Turks and Caicos to top up our fuel tank. We took on fuel, went to a local cruisers BBQ and then left the next day and motor-sailed all the way through the Old Bahama Channel before the wind filled in. Of course, when the wind filled in it was from the Northeast which directly opposed the Gulf Stream. Although you are not supposed to cross the Gulf Stream in these conditions, the Gulf Stream at this point is not overly strong, so we pushed on. It was a rough ride but we were broad reaching and we had been in worse conditions than this many times before. Besides, we were looking forward to arriving "home" at this point. As we left the Stream's influence, the wind and seas moderated and we motored into Key West in the middle of the night. We usually do not go into an unfamiliar port at night, however, it was well-marked so we continued on and dropped our hook at 0200. We had now finally made it back to the United States!
We had sailed 38,000 miles with no major breakdowns, visited over 33 countries and lived on the boat nonstop for 5 years. We were glad to be in US waters once again. We checked in with Customs in Key West and left the next morning for the final leg of 152 nm to our new home and dock for Iron Mistress in Punta Gorda, FL. Iron Mistress is now tied up securely behind our house for a well-deserved rest and refit. As for the crew, we are slowly adjusting to life on land and look forward to our next adventure.........
..........stay tuned
"Out for now, on Captain's Priority Subspace Frequency Channel - crew of Iron Mistress"