The Cook Islands
Palmerston Island
We left the Society Islands on a Thursday in early September, unsure of our exact destination. Our first day out brought very light winds, so we flew the spinnaker most of the day. Overnight the winds dissipated so we ended up motoring again. We then set a course for Rarotonga in the Cook Islands, as we would need to refuel if the winds didn't fill in. By Saturday, the winds picked up and we were able to sail again. We decided to change course and make way towards Aitutaki, one of the southern Cook Islands, north of Rarotonga, the second most visited island in the Cook Island group. Two days later, we talked via SSB radio to some of the boats who had arrived in Aitutaki. They described the very narrow pass to enter the lagoon and some of the boats dragged bottom going in, even at high tide! The best thing about cruising is that your decisions are never carved in stone... so after some deliberations, we decided to change course again and broad reach to Palmerston Island, the only true atoll in the Southern Cooks group. A true South Pacific gem...
Palmerston is an atoll with a land area of one square mile. It lies about 310 miles northwest of Rarotonga. It consists of six sandy motus (islets) scattered around a coral reef and surrounding a lagoon about seven miles across. There is no entry for large ships but very small craft can gain access from three boat passages. All visiting yachts anchor on the outside of the reef. As we approached, we were met by our "host", Bob Marsters, in an aluminum skiff who guided us to a sandy patch in which to drop our anchor. Our shifting cable had broken on the way to Palmerston, so maneuvering the boat and anchoring had become an interesting experience, to say the least.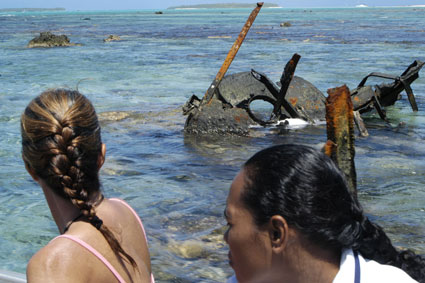 As our "host family", Bob and his wife would come and pick us up from the boat each day and take us ashore, expertly navigating through the wreck-strewn reef. We were glad we were not attempting this on our own! Once ashore, we found a true South Pacific paradise... crystal clear blue water, white sand in every direction and the friendliest people we had come across so far....
There were several other yachts here at the same time we were, as well as the Tall Ship Picton Castle from Lunenburg, Nova Scotia, Canada. It had been about 5 months since the last supply ship had stopped at Palmerston, and they were running out of diesel fuel and food supplies. The Picton Castle had loaded up with supplies in Rarotonga for Palmerston and spent days unloading the goods into the aluminum skiffs to be brought ashore. We all gave what supplies we could spare -- food, diesel fuel, CDs, toys for the kids - and the islanders showered us with their generous hospitality. They enjoyed showing us around their beautiful island and welcomed us into their homes, where we enjoyed learning about the island lifestyle.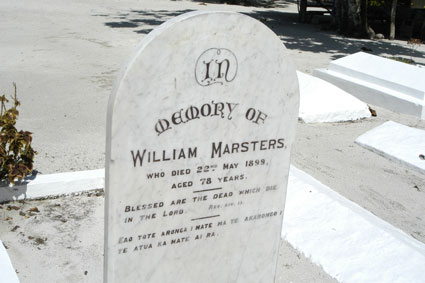 At present, there are only about 65 inhabitants who are all direct descendents of William Marsters, who arrived in 1863 and settled here with three wives, and propagated a large family. The island still maintains the three separate family units with an "elder" who heads each family. The three elders make the decisions for the group.
Our time here was filled with lazy days spent walking the white pristine beaches, attending family gatherings and enjoying the company of the other cruisers -- oh, and also the hours spent on replacing the shift cable and lifting the engine to replace a bolt that had sheared off on the engine mount. Who said, "cruising is just doing boat maintenance in exotic places..." !
But, once again, our time at anchor was coming to an end. With a favoring weather window to continue westward, we all had one last day on the island. There was a big send off barbeque sponsored by the islanders and the Picton Castle. There was plenty of food, drinks and entertainment -- traditional dancing - for all to enjoy. A large bonfire on the beach, ended the day. We all sadly said our good byes to the lovely people of Palmerston. The next morning, we weighed anchor and were off to our next destination -- the island of Niue.