The Kingdom of Tonga
The Kingdom of Tonga lies approximately 230 nm from Niue on a course of 259 degrees Magnetic. We left the mooring in Alofi Harbour, Niue around noon on September 27th. The passage was met with rough seas and big winds. We did not get much sleep on this passage as heavy squalls would come through each night bringing 30+ knot winds which required us to reduce sail and hand steer at times.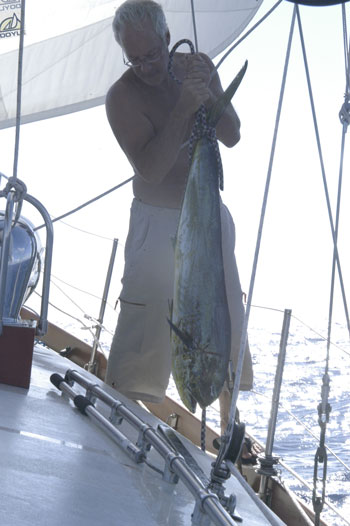 But the fishing remained good with several Mahi-Mahi's and a tuna or two added to the freezer.
We crossed the International Date Line on September 29th which immediately became September 30th!!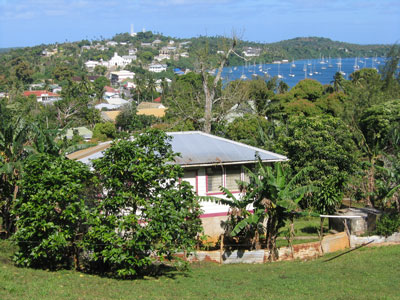 We arrived in the Vava'u Group in Tonga around 10 AM, cleared customs, picked up a mooring in Neiafu Harbour and caught up on some much needed sleep.
The view of the harbour and town of Neiafu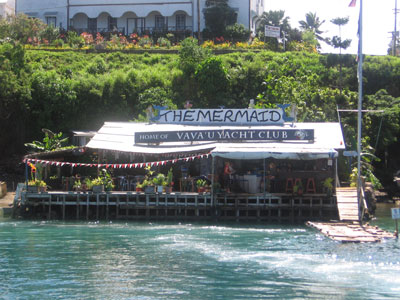 The main attraction in the town of Neiafu at the waterfront is The Mermaid Cafe. This is the local watering hole and the gathering place for cruisers. On Friday evenings, they have traditional Tongan dancing shows. We met up with many of our friends here and enjoyed catching up and sharing sea stories. One particular afternoon, we were treated to a bagpipe serenade by Tom on "Nechtan", dressed in full Scottish regalia.
One of the highlights of our stay in Tonga was a chance to swim with the Humpback whales, who migrate to Tonga each year to mate and have their young. We went out on the tour boat "Whalesong" from Sailing Safari's Charters in Neiafu. What an incredible experience it was!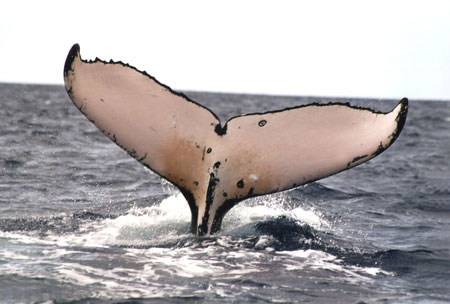 As we came upon a group of whales -- mother, baby and male escort -- the boat stops and in small groups we took turns getting in the water and snorkeling among the whales. It is unbelievable how massive these mammals are when you are up close and personal! This was definitely a highlight of our trip so far.....
We eventually tore ourselves away from our daily bakery visits and The Mermaid, and cruised some of the various anchorages in the Vava'u Group. White pristine beaches, clear turquoise waters and excellent snorkeling was the order of the day.... after day..... after day.......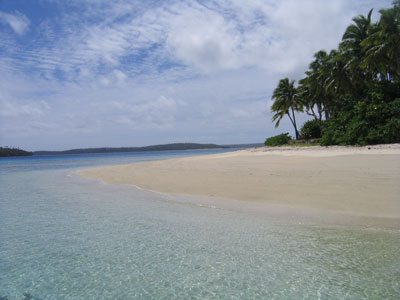 Again, the time had arrived to head west again... next stop... Fiji