Caribbean - 2003/2004 Season....
When we left NH, we stopped in Fairhaven, MA to visit friends and then continued on south to Cape May, NJ. From there we rounded the tip of NJ and headed up the Delaware Bay to the C&D Canal and anchored for the night in Chesapeake City. The next day we continued through the C&D Canal and out into the Chesapeake Bay. We hopped through the Bay stopping to visit family and friends along the way. We arrived in Hampton Roads, VA the end of October to get ready for the Caribbean 1500 rally. We left on November 1st heading for Tortola, BVI.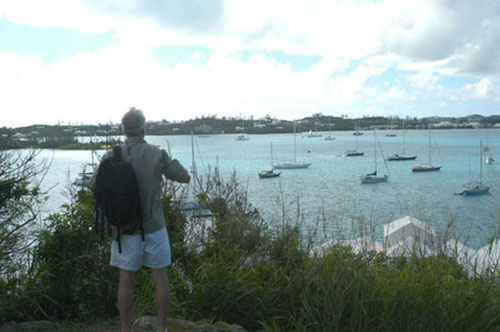 St. George's Harbor, Bermuda
Because of continuous headwinds in the direction we wanted to go, we ended up diverting to Bermuda with several other boats to refuel. We all had a great 8 day stay in Bermuda waiting for a weather window to continue to Tortola. When we finally left Bermuda, the winds were perfect and we arrived in Road Town, Tortola 5 days and 15 hours later, receiving First Place in our class.
We cruised around the US Virgin Islands and the British Virgin Islands until the first of the year, spending New Year's Eve (or Old Year's Night) 2003 at Foxy's on Jost Van Dyke. Then in early January 2004, we made an overnight passage to St. Maarten. We spent three weeks in Simpson Bay Lagoon, finding it hard to leave with the French Bakery a short dinghy ride away and fine French wines for $2.50 a bottle! One of the highlights is spending a Thursday or Sunday afternoon at the Sunset Beach Bar watching the jumbo jets land at the airport.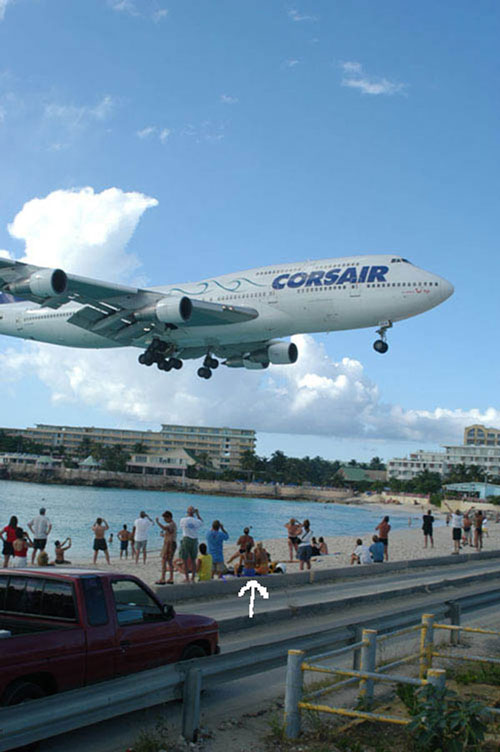 The arrow in the picture is where Elyse, and Diane from "Flyby" are sitting on the wall. It's unbelievable how close the jets fly overhead. The airport runway is right behind us.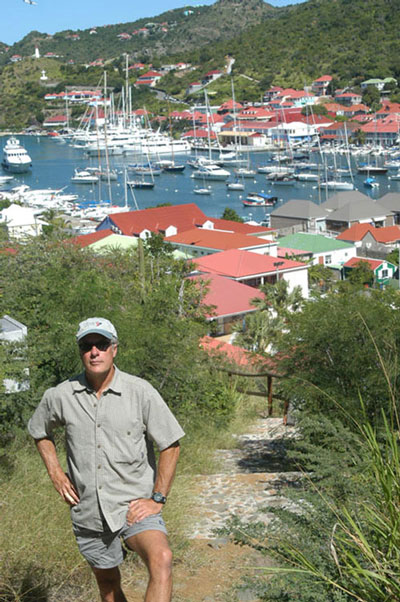 Finally leaving St. Maarten with our waistlines showing signs of the pastries, and the bilges filled with wine, we then sailed to St. Barth's and anchored in Gustavia Harbor. St. Barth's is a beautiful island but very expensive, not conducive to a cruiser's budget. We did some hiking around the island and met up with some other cruisers from the Caribbean 1500.
Our next stop was Jolly Harbor, Antigua. We took a slip at the marina for about a week, having time to reprovision, swim at the marina pool and even watch the Patriots win the Superbowl!! We also spent some time in Falmouth Harbor, Antigua across from English Harbor. English Harbor was within easy walking distance from the dinghy dock in Falmouth. Hiked up "Lookout Trail" to Shirley Heights to catch the Sunday night Barbeque. They have a steel band and reggae bands playing into the wee hours of the morning. We also rented a car with Ron and Diane of "Flyby" and toured the island.
Gustavia Harbor, St.Barth's
Since we will visit all the Windward Islands as we close out circumnavigation circle, we decided to head back North as we needed to get to SW Florida before hurricane season to oversee the final construction of our house.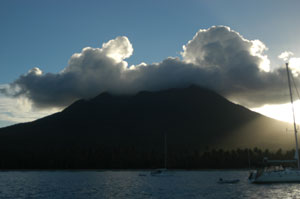 After spending about a month in Antigua, we sadly left for our trek North. We spent a few days in Nevis, again hooking up with some Caribbean 1500 boats -- Ken and Cindy on "Secret O'Life "and Dick and Bev on "Silent Passage".
Mt. Nevis
Upon leaving Nevis, we headed straight for the Spanish Virgins, our first stop being Culebra, one of the outer islands of Puerto Rico. We met up with Ron and Jane on "Jarro" while in Culebra and had a great time exploring the island. We spent time in Vieques and then Boqueron, PR before making the passage to Turks and Caicos. We stayed in Provo for about a week, then met up with "Elixir of Life" and "Daydream" in West Caicos.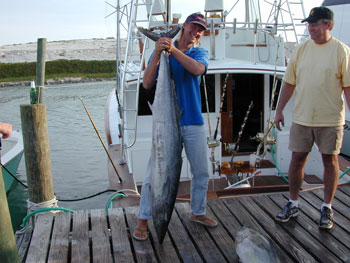 Our last stop before heading back to the States, was Rum Cay, Bahamas. We had a great time at Sumner Point Marina and spent each evening at the Greenflash Restaurant hoping to catch a glimpse of the "green flash". Before heading to Miami, we were able to fill the freezer with mahi mahi, wahoo and tuna from the sportfishing boats that come in each evening with their fresh catch. Here's Marco from "Elixir" holding up one of the wahoo that just came in.......
We ended our season back in the States, clearing into Miami and then continuing on to the west coast of FL via the Keys, with our home base being Burnt Store Marina in Punta Gorda, FL for the summer. Unfortunately, the hurricanes that have bypassed that area for the past 40 years, decided to make a visit, and we ended up in the direct path of Hurricane Charley on August 13th. But that's another story.... (you can read about our experience in the October 2004 issue of Bluewater Sailing magazine).
So now we are setting sail again, our first stop.... The Panama Canal. So stay tuned for further adventures of the Iron Mistress......