The Atlantic Ocean Passage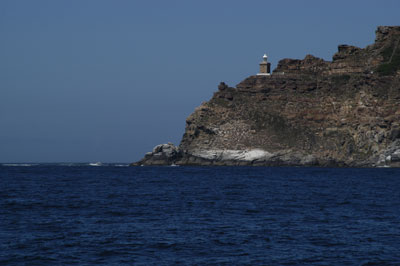 As it was now January 2008, it was time to leave South Africa across the "ocean desert", the South Atlantic Ocean. We had close to 6000 miles ahead of us with only two stops along the way to get to Antigua, where we will close our circle and become "circumnavigators". The problem was, we had tried to leave Simonstown two times to get around Cape Point which is less than 20 miles away, but were turned back by fierce gale force winds and seas. We decided the best tactic was to relax back at the marina and wait out the gales, which lasted over two weeks, one after another. We finally cast our lines off on January 31st and motored down to Cape Point (photo left), where we turned right and left Africa on our starboard side as we began our 1769 mile passage to St. Helena.
The trip started off well, as we had a 72 hour window before the next gale arrived. By then, with the help of the Benguela current, we were making 140-150 mile days with no effort. As we neared St. Helena, we lost the benefit of the Benguela current and the wind lightened significantly as we were riding the top part of the high pressure system that was in that area. When we had 565 miles to go, the wind became so light that we put up our large spinnaker. This spinnaker has always been a dangerous sail to use as it is 2000 square feet, which is about 800 square feet more than it should be. But since we had a very long way to go and were fuel conscious on this trip, we decided to leave it up during the night (something we had never done before due to squall activity that comes every night). That said, we had clear skies and there was no apparent rain squalls anywhere on our radar, which we leave on throughout the night. Around 3 am, when Robert was on watch, the boat suddenly accelerated and by the time he got out in the cockpit, we were doing 10-11 knots as we were caught in an unforseen wind squall. Just as Robert grabbed the wheel, we broached! As we were going over, he instinctively let the spinnaker sheet fly which allowed the boat to right itself quickly. At this point, it was all hands on deck, running down wind and trying to "sock" a wildly gyrating oversized spinnaker back onto the deck. It was everything that Elyse could do to pull that sail down, as Robert was on the wheel. Once things were back under control and the squall was gone, we thought everything was fine except for the fact that we had left the galley portlight open. Since the house was completely under water in that area, we had taken on a massive amount of water that, of course, went into the freezer/refrigerator area and any other place it could get into in the galley, as it made it's eventual path to the bilge! Elyse went back to bed and Robert spent the rest of his watch taking everything apart, rinsing it with fresh water, drying it and finally restowing it.
The lesson here is you cannot see wind squalls on radar and you should never fly a spinnaker on a short-handed cruising boat --- at least at night!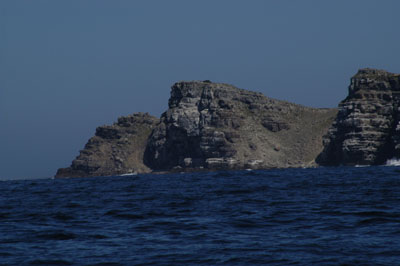 Three and one-half days later, under calm conditions, we motored until we saw in the breaking morning light the dark barren southern cliffs of St. Helena. We were not impressed. It was ominous and dangerous looking. Certainly a place you would not want to spend time. However, as the morning light grew and we rounded the corner and dropped our hook in St. Helena's only harbour called the Anchorage, things started to look better. This was obviously the "better" side of the island. We could see the small town in the distance and greenery high atop the rock faces.
St.Helena
"Further away from anywhere, than anywhere else in the world..." an appropriate description of the small island of St. Helena which is approximately 1200 miles from Africa to the east, 1800 miles from Brazil to the west and 800 miles from Ascension Island to the north. Without an airport on the island, it is serviced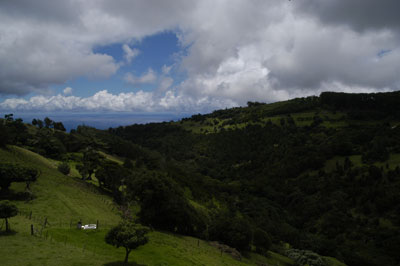 only by the Royal Mail Ship, HMS St. Helena. The population of the island is approximately 6,000 with the majority of the people residing in Jamestown, Half Tree Hollow and Longwood. The island is rich in history with the main settlement of Jamestown having evolved through five centuries. Many famous characters have strolled along the same streets of Jamestown -- Captain James Cook, Charles Darwin, Captain Bligh to name a few. Most people remember St. Helena as the island where Napoleon Bonaparte was sent into exile following his defeat by the Duke of Wellington at the battle of Waterloo. Our island tour included stops at the Briars and the Longwood House, where Napoleon spent six years before his death in 1821. The interior countryside was lush and green, a welcome contrast to the barren rocky coastline we first encountered. One particular day, when feeling ambitious, we climbed the 699 steps of Jacob's Ladder and were greeted with a magnificent view of the harbor and Jamestown below.
One of our favorite spots was Ann's Place, a gathering place for cruisers and locals alike. Whether catching up on laundry, the internet or just enjoying a delicious home cooked meal, Ann and her family provided a warm and friendly atmosphere. It's places like this that make moving on so difficult.
Although we only spent 4 days in St. Helena, they were memorable and educational. In addition, we were able to top up our fuel tanks at over $7.00 USD per gallon (not including delivery on the launch) which in fact, was the most expensive diesel fuel we purchased on our trip around the world. From here on out, there would be no place that we were going to take on fuel until we got to Antigua. Fernando de Noronha, off the coast of Brazil, was our next stop. Although there is fuel there it is difficult to obtain and hard to get back to the boat, so we had no intention of refueling there for those reasons.
As we left St. Helena in our wake, the wind grew extremely light as we got closer to the equator, which required us to make many sail changes trying various combinations to catch the limited wind. We also were dealing with increasing squalls every night, so we had to be careful in choosing the night's sail plan. We lost some speed because of this, but we were much safer as a result.
We had 1782 miles to go and when the wind is light, that is a long, long way to travel. In addition, the fishing was terrible. During this passage is where we coined the phrase "the South Atlantic is like a liquid desert". It was monotonous, and tiresome but at least there were no gales or storms to deal with. Personally, we were so used to sailing in heavy wind we longed for the good old days, where 28-30 knots seemed normal. Finally, we saw the island on the horizon on our 14th day at sea. It was a very slow run in light air but we were able to conserve our precious fuel. It was clear we could not get to the island in the daylight, but because of the geography of the anchorage, we decided to go in at night. We rounded the southern tip and turned head into a blast of wind that came down off the island that was now off to starboard. We motored up into a pitch black anchorage, using radar, GPS, chart plotting and a search light and finally anchored in St. Anthony's Bay at 0230 local time. It was a rolly anchorage but at least our anchor was well dug in.
Fernando de Noronha
When we awoke in the morning, we saw that we were closer to the rocks on our port side than we had thought at night, but our hook was well dug in on a lot of scope, so we were not worried. The island itself (at least from the anchorage) did not look very appealing. Nonetheless, we needed to clear in and check things out. So we went through the arduous process of inflating our 11.5 foot Zodiac which had seen better days and made our way on a soft bottom into the local dock to go to the Police Station/Customs/Immigration. As we made our way up the dusty road, we encountered another cruiser from France who warned us of things to come. To make a long story short, this was the most expensive place to clear in that we had experienced in our 5 year circumnavigation.
To start with, there was a major language barrier because they speak Portuguese and very little to no English. Since we did not speak Portuguese, it made the whole affair of clearing in difficult. On top of that, Immigration, dressed in military fatigues with 9mm semi-automatic pistols strapped to their thighs were very put off that we had entered without a Visa. They did not want to hear that all the information that we currently had stated that if we were just stopping briefly and were not going to mainland Brazil, we did not have to have a Visa. We even showed them the website where we got this information. To make matters worse, nobody knew what either side was saying! Eventually, they made it clear that we could stay for 3 days at the exorbitant price of $138 USD per day! At those prices, we decided we would leave the next morning. As if this wasn't bad enough, they would not accept our VISA card, which is the first place in the whole world where we ran into this problem -- they only take Mastercard! So, we had to borrow money from the Police Chief to ride the bus to the airport where the only ATM machine is. We then got our cash, rode the bus back, paid our fees and the day was over and we went back to the boat and left the next morning. We saw the island during our bus tour and it was the usual third world accommodations, but it was actually a resort community for mainland Brazil. During our bus tour, we got to see the famous Brazilian thong bikini -- at least for the Captain, that kind of made the stop worthwhile!
Needless to say, we were not impressed with the island or the officials, even though the Police Chief was very friendly. So we hoisted sail the next day and sailed away for our next leg of 2179 nm to Jolly Harbour, Antigua where our circumnavigation would be complete. We also had numerous people that were meeting us there for a party so we were psyched to get underway. But now we had to deal with the famous "doldrums" as we approached the equator. The big question was, where exactly were they?
As you get closer to the equator, you lose the trades and the winds are variable and light. We had a French boat that was 100 miles to our south that was heading to the ITCZ (intertropical convergence zone) also. So as we both moved toward the Caribbean islands, we compared notes every night and nothing was matching up as the pilot books and our satellite weather reported. We were getting light headwinds and a counter-current running against us. We were expecting a favorable current to compensate for the light winds -- but that was not to happen. To say the least, our daily runs were extremely low. Our first day was 108 miles. We were currently at 02.23.83 South Latitude, 033.43.06 West Longitude and we were experiencing a northeast swell and were expected to cross the ITCZ at 35 degrees West. In fact, we entered it at 33.43 West Longitude. We determined this with out current satellite weather charts and weather conditions. We were experiencing dead calms and violent rain squalls at night. Although we wanted to turn the motor on so that we could make better daily runs, we had not taken on fuel for over 2000 miles and we had another 2000+ to go, so motoring at this point was not an option.
On day 2, we only went 94 nm and day 3 wasn't much better with 96 nm, however, we had crossed the equator at this point and were back in the Northern Hemisphere for the first time in three years. Although we were "shellbacks" once again (the term that is used for people who cross the equator), we did not celebrate this time as we had only one thing on our mind -- getting through the ITCZ so that we could find wind again, as we were becoming fuel critical.
At 035.23 West, we made the decision to start motor-sailing. This along with intermittent wind, allowed us to finally get out of the doldrums and pick up the tradewinds at 03.14 North, 038.06 West. The doldrums with the light winds before and after the equator turned out to be over 300 miles long instead of the "original" 100 miles. We were now really fuel critical with 1605 miles to go to Antigua to close our circumnavigation. There was a large system to our North that was pounding the Leeward and Windward Islands with huge Northeast swells. We were dealing with a 10-13 foot swell from the East which gave us a very uncomfortable ride, but other than that we were sailing with a triple reefed main and staysail, making 140 miles a day.
Closing the Circle
Finally, on our 19th day, we saw Antigua on the horizon. At the time, we were sailing wing and wing, doing 5.7 knots and we desperately wanted to get in before dark to meet up with our friends on Secret O'Life, whom we had not seen for 5 years. We had just crossed the "liquid desert", also known as the South Atlantic and we were ready to drop our anchor for some well deserved rest and relaxation. We contacted Secret O'Life earlier that day on SSB radio and now were were close enough that we could actually talk to them on the VHF radio. We did our final charting on this trip and made our calculations and our ETA would be 1800. We turned our motor on and motor-sailed at full speed to make this happen.
As we came into Mosquito Cove in Jolly Harbour, Antigua, we could make out Secret O'Life with our binoculars. We furled our staysail and dropped the main for the last time on this crossing into it's Doyle Stackpack. As we motored between the anchored boats, all the boats in the anchorage started to blow their horns and ring their ships bells, to acknowledge our arrival and the fact that we had just sailed around the world. Unbeknownst to us, the crew of Secret O'Life -- Ken and Cindy -- had thoughtfully told the other boats about our arrival.
We dropped our anchor in 8 feet of water and were greeted by Ken and Cindy in their dinghy and with Graham Beck South African Champagne in hand, we made our way to Secret O'Life (a Beneteau 461) and began a memorable night of overindulgence -- and of course, sea stories! A wonderful way to end a perfect trip.